According to data collected during the recent Global Crypto Literacy Survey, of the respondents that said they know about crypto, there are still low ownership rates. 
Here's a breakdown of ownership based on geography of people who answered they were aware of cryptocurrencies:
17 percent of respondents from the U.S. own crypto

15 percent of respondents from Brazil own crypto

14 percent of respondents from Mexico own crypto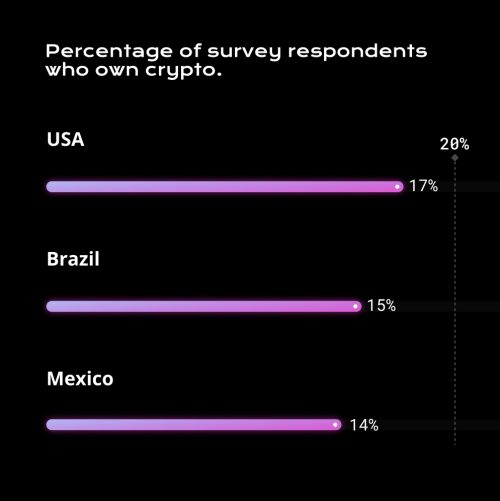 Three explanations for low crypto ownership
There are likely many explanations for the lag between crypto awareness and crypto adoption. Here are three high-level trends:
Access to cryptocurrency is a limiting factor
One explanation for the lag between crypto awareness and crypto use is that there might not be enough access to cryptocurrency services like exchanges and wallets. But, according to a 2021 survey by Chainalysis, crypto adoption is growing rapidly worldwide, meaning access to crypto services does exist for people interested in using them.
People don't see the value proposition of cryptocurrencies
Cryptocurrencies are still considered a speculative investment because their future value is still unclear. Add to that things like the fact that they are still poorly defined by regulators and authorities, and that they are still a relatively new technology, and you have a combination of factors that makes crypto feel risky to some investors. But major cryptocurrencies like bitcoin and ether are showing to be some of the best performing financial assets — ever.
There are still barriers to entry in the crypto onboarding process
So, if access to crypto exists globally, and the investment case for crypto seems pretty clear given a decade of data and returns, then what else is missing that would explain such a dramatic lag between crypto awareness and crypto cash-in? There are likely a few complex explanations, but one of them that resonates industry-wide is that accessing crypto services is still complicated in many instances. These complications might arise if people don't have access to traditional banking services or credit cards, making the design of many crypto onboarding flows not usable for all. They also might arise from the general design of crypto onboarding (creating a wallet, managing keys, etc.). Or they might arise from a lack of knowledge or comfort about which assets to buy, or that cryptocurrencies are available in fractional amounts and so small portions can be purchased (unlike traditional equities and other investments).
Regardless of the reason for the lag between crypto awareness and people becoming crypto investors and users, the gap needs to be closed —  especially for people that really want to buy crypto but they aren't sure about the first steps.
Why is this important? The opportunities in crypto are moving so fast, that unless there is easy and equitable access, all of the benefits will go to the early movers and the crypto "whales," which would basically just recreate the inequities that exist in the current financial system.
One way to get more people into crypto is through education, which is where crypto literacy comes in. 
Learn more about this and other topics by taking courses in the bitcoin, NFT, DeFi, and security sections of the site. And be sure to take the crypto literacy quiz.