The recent Global Crypto Literacy Survey surfaced some interesting data and insights. One interesting item was that respondents in Mexico felt like they had more crypto awareness or knowledge than was reported by respondents in the U.S. or in Brazil.
There are likely a number of reasons for the data to show this trend. Culture, education, access, familiarity with finance and technology — those are all good reasons. Other reasons could include that people in Mexico have been actually using crypto longer than people in other geographies.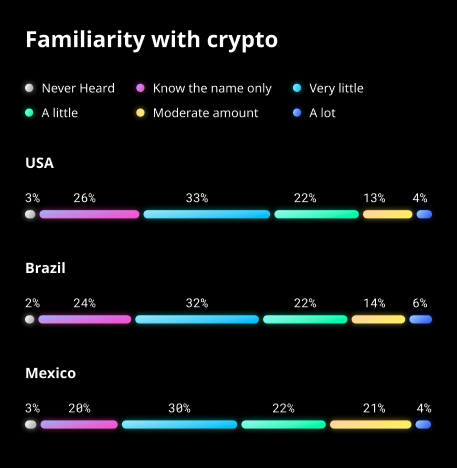 After all, one of the earliest and most exciting use cases in the early days of bitcoin was as a cheaper and faster remittance corridor. Remittances, or money sent by workers back to family or friends in another country (in this case Mexican immigrants working in the U.S. sending money back to friends and family in Mexico) add up to be a big part of some national economies. In 2020, $40.61 billion dollars were sent as remittances to Mexico helped keep the Mexican economy ranked as the second largest in Latin America.
But remittances sent via traditional channels are costly, and it's one reason why bitcoin was an attractive alternative. With traditional remittances, via a money transfer service, the sender pays a fee, the person receiving the money pays a fee, and then there might be additional currency conversion fees involved. Not only that, but sending money internationally via traditional channels can take days —  sometimes weeks — to fully complete.
But with bitcoin and other cryptocurrencies, all you need is for the sender and receiver to each have a wallet supporting the same cryptocurrency. Transaction times take about ten minutes for the first confirmation, and transaction fees are pretty minimal, especially if the transaction doesn't need to be processed immediately.
And the ease of use for international money transfer is also one of the reasons why the government of El Salvador made history this past year by making bitcoin officially legal tender within the country. Like other countries in Central America, a big portion of its economy comes from remittances. In 2020, El Salvador received $6 billion in remittances, or about 23 percent of its GDP.
Learn more about this and other topics by taking courses in the bitcoin, NFT, DeFi, and security sections of the site. And be sure to take the crypto literacy quiz.