Participants in the recent Global Crypto Literacy Survey were asked about how they felt about their traditional government-backed fiat currencies. 
The largest response in the U.S. (39 percent) said that they felt the dollar was somewhat stable, while 24 percent reported feeling that the dollar was somewhat unstable. Of the other responses, 19 percent of those who answered reported feeling that the dollar is very stable while 11 percent feel the dollar is very unstable. 
In Mexico, the responses about the peso were similar —  44 percent of respondents said they feel the peso is somewhat stable, while 12 percent answered very stable. Of those who answered, 27 percent felt the peso is somewhat unstable, while 15 percent answered that they felt the peso is very unstable.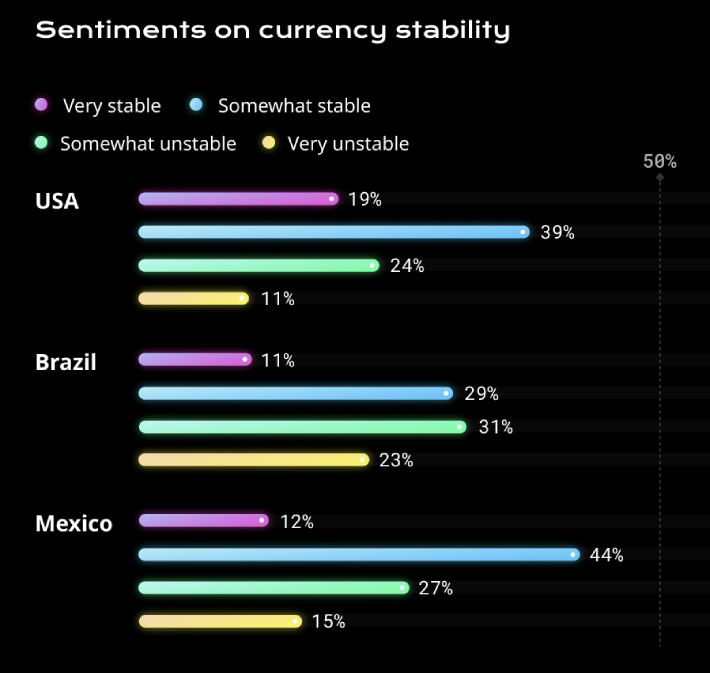 In Brazil, based on the survey's responses, there seems to be more concern about the stability of the real. The largest respondent group (31 percent) was for people who feel Brazil's currency is somewhat unstable. An additional 23 percent feel the currency is very unstable, while 29 percent say it is somewhat stable and 11 percent say it is very stable.
The interesting thing about these responses is that they help shed some light on why people are attracted to the opportunity to invest in bitcoin and other cryptocurrencies —  mainly that they offer an alternative outside of government-backed fiat currencies. 
Bitcoin has an ever-evolving set of uses, attributed mostly to its dynamic nature as a decentralized network and currency. Bitcoin was first conceived as a way to make peer-to-peer payments over the internet without the need for a middleman. Soon after, because of its scarce and deflationary nature, bitcoin was soon seen as a great speculative investment. As bitcoin matured and the value locked in the network increased, people started to turn to bitcoin as a store of value, or place to digitally secure assets. 
In addition to all of those uses, bitcoin is also used as an asset safe haven for people concerned about the stability or long term value of fiat currencies. 
Bitcoin's safe haven use case is even pronounced following all of the interventions and economic stimulus embraced by the world's leaders and central banks since the beginning of the global pandemic in 2020. The results of the short term economic stimulus, which mainly came in the form of printing new money, are unknown. 
One possible outcome is long term devaluation of traditional fiat currencies. One of the biggest attributes of bitcoin is that its economics are mapped out well into the future and controlled by computer code, making the system outside of the control of political leaders. 
Learn more about this and other topics by taking courses in the bitcoin, NFT, DeFi, and security sections of the site. And be sure to take the crypto literacy quiz.