According to the recent Global Crypto Literacy Survey, most of the world still thinks that purchasing crypto is cumbersome. Put another way, of the survey respondents who answered from the U.S., 38 percent said purchasing crypto was easy. Meanwhile, 36 percent of respondents from Mexico and 31 percent from Brazil said purchasing crypto was easy.
The need for seamless onramps
It doesn't matter if you are drawn to crypto for political, economic, or investing reasons, one shared and universal critique of the cryptocurrency system is that it is complicated to use and navigate.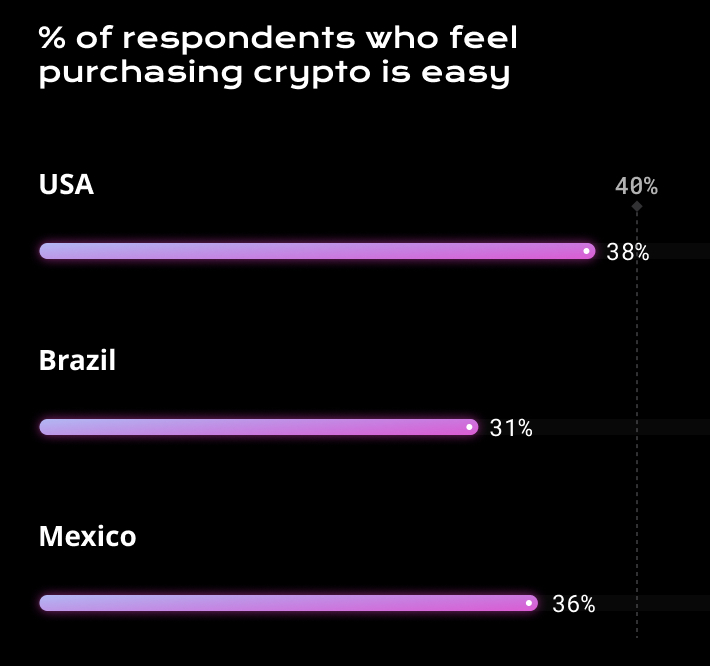 In a lot of ways, because of the combo of technology and finance, it feels inaccessible to many. For most, crypto still feels like the money version of Churchill's "a riddle wrapped in a mystery inside an enigma."
And it's likely that mainstream adoption of cryptocurrency systems will continue to be elusive until crypto becomes simple and intuitive. One way to make crypto easier is through better design and user experience. The key will be maintaining the aspects of personal freedom, responsibility, and privacy that is foundational to crypto while layering in ease-of-use aspects like single click payments and the seamless sign-ups flows of the centralized web.
Maybe someday the way new crypto wallet users have to record and store their seed phrase will seem as old school as dial-up modems and floppy disc drives.
Another key for opening access to crypto to billions of people on the planet is to make crypto services that actually serve the needs of people operating in the cash economy, or people that lack decent alternatives to the traditional financial system.
Apart from the hype about institutional investors piling in crypto, and billionaire CEOs talking about how they are buying more bitcoin for their balance sheets, much of the new growth in bitcoin and crypto adoption is coming from developing economies and parts of the world that can most benefit from the services crypto provides. So that is a promising sign. And maybe it's a sign that crypto is becoming easier and easier to access and use.
Learn more about this and other topics by taking courses in the bitcoin, NFT, DeFi, and security sections of the site. And be sure to take the crypto literacy quiz.