The crypto market never sleeps
According to the recent Global Crypto Literacy Survey, 12 percent of participants in the U.S. are planning to buy or sell cryptocurrencies in the next six months. In Mexico, 28 percent of participants say they are planning to buy or sell cryptocurrency in the next six months, and in Brazil 30 percent of respondents say they plan to buy or sell crypto during the same timeframe.
No off switch: Feature not a bug
The cryptocurrency market never sleeps. There are no "market hours" and there are no market holidays. Instead, cryptocurrencies are global markets that are constant and extremely dynamic.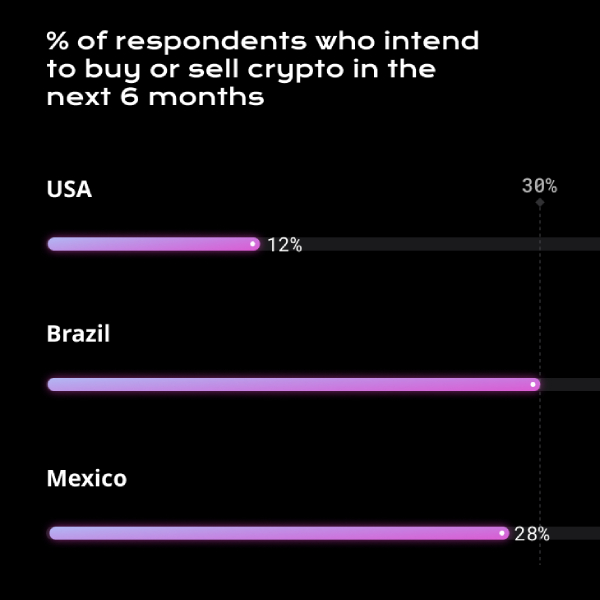 Since crypto markets operate at all times, it means that crypto is always accessible for people that need it —  all over the world. 
But more than market access, the always-on cryptocurrency market points to another major feature of cryptocurrencies, which is that there is no off-switch.
Most of the major cryptocurrency networks do not have a centralized point of failure, or a place or person that can turn them off. Bitcoin, for example, runs on a system of nodes that is distributed globally. This is a completely new kind of financial operating system that will ultimately lead to more access and more equitable participation.
Buy crypto searches trending up
Another really interesting component of the always-on and global nature of cryptocurrency markets, is that the maturing nature of the market provides plenty of data for analysts to study. 
One tool to monitor the crypto market is an overall sentiment analysis using Google search volume. Of note, searches for "buy crypto" have been growing globally over the last five years. Here's a Google Trends chart for "buy crypto":

Learn more about this and other topics by taking courses in the bitcoin, NFT, DeFi, and security sections of the site. And be sure to take the crypto literacy quiz.